Hello fellow Bolton Marathon runners…
I thought I would take this opportunity to introduce myself, my name is Louise and I work for Summit Physiotherapy, the official physiotherapy and sports rehabilitation partner of the Bolton Marathon.
I'm a keen runner, having taken part in many 10k events and recently a couple of Half Marathons but Bolton will be my first marathon, and as a first time Marathon runner, I have certainly felt daunted at the task ahead, not just the distance but in our case…those hills! How do I prepare for this? Where do I start? Where should my focus be?
Summit Physiotherapy have joined forces with Limitless Triathlon Coaching in order to put together a tailored Marathon plan specifically for Bolton Marathon and it's entrants. Starting now we have put together a pre-marathon plan, with the full 16 week plan set to launch in January.
Louise Bentley,
Summit Physio
Limitless Triathlon Coaching have got you covered…
So here are the first two weeks of your 'pre-marathon' training plan. This is all about getting ready to start training; we will be focusing on endurance and strength. There will be three key sessions, which will make up about 80% of the run training volume. If you wish to run in addition to this to take it to the 100% mark, then the runs should be carried out at a very easy pace to simply build the aerobic base that will be required for the sessions to come in later months.
The days in between could be used for S&C and rehab but it is vital that at least one day a week is used for rest, don't underestimate the importance of rest and recovery within your training.
This plan is aimed at beginners and athletes who wish to improve (not elite athletes) however, there will be sessions on the coming plans that will suit the established marathon runners.
See below for the 'pre-marathon' Bolton Marathon Training Plan: Weeks 1 and 2…
Joe Duckworth,
Limitless Triathlon Coaching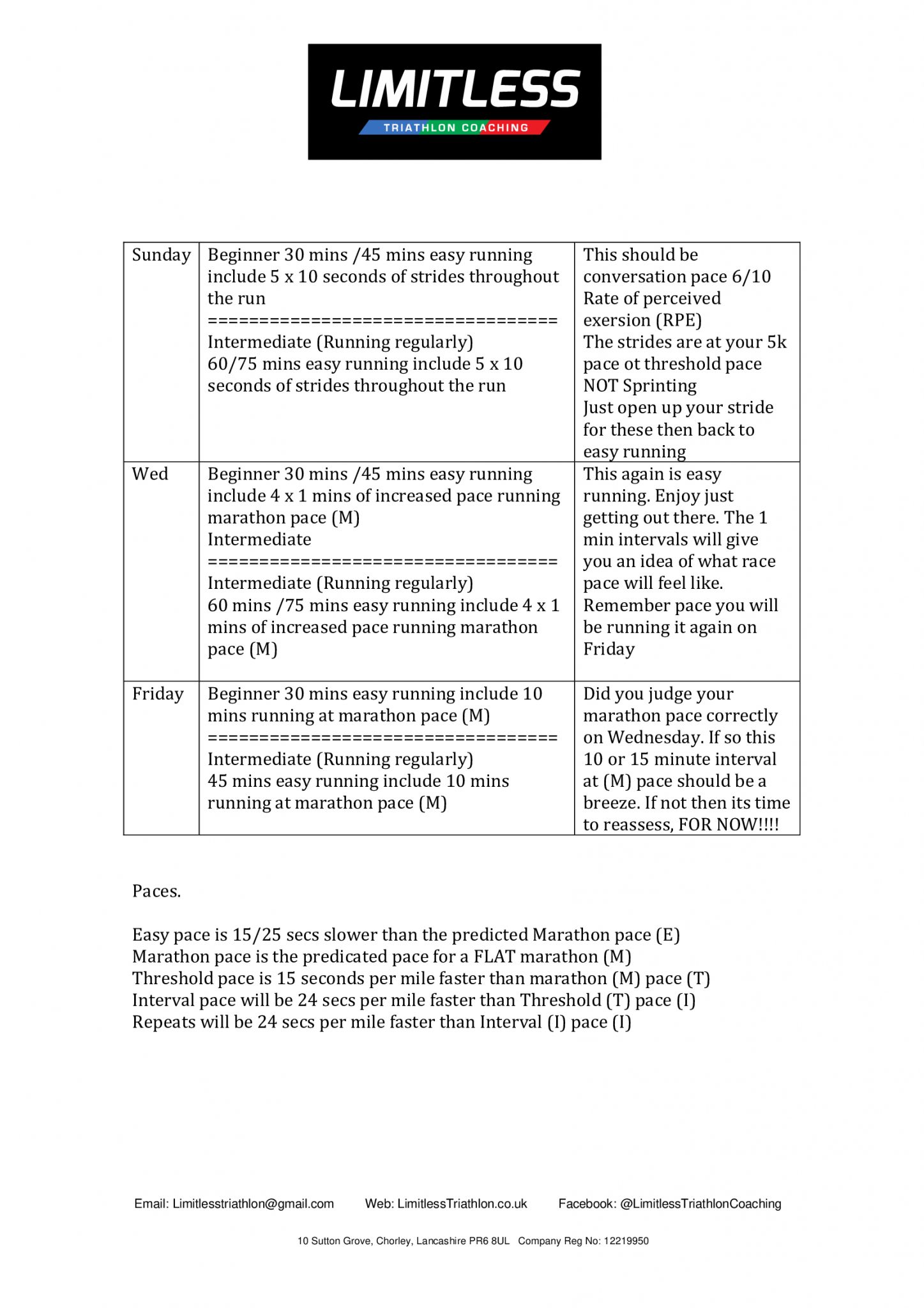 Introduction to strength work
It's important when we begin training for a marathon to consider strength work as part of our training. Some of you may be familiar. Others may not. For those of you who are familiar then beginning squatting is a good way to strengthen your legs and you should begin this now. For those of you who are unfamiliar; we have created two videos to help you start.
Please see videos below…
.
Did you know?
As a Bolton Marathon & Bolton Marathon 10k entrant you have access to lots of exclusive benefits and discounts with Summit Physiotherapy. All runners receive 20% discount across all appointments from now until 31st May 2020. Check out the services and benefits available….
Sports Massage
Physiotherapy
FREE 15 minute Injury Assessments
Running Screening
Complete Running Analysis
Footscan Analysis
Discounted Orthotics
A FREE TRIAL of our Hyperbaric Oxygen Chamber
Call us on 0800 731 2738 for further info or book an appointment online today.