How did it go?
Hi everyone,
I hope the first two weeks of the pre-marathon training plan have gone well for you, and above all you are feeling more optimistic about the Bolton Marathon and ultimately more confident of the challenge ahead. Sometimes the hardest part for me is making that decision to say to myself "Right, training starts now". Having the structure of a written plan can really spur you on to get motivated and focused.
I am in a fortunate position of working with a team of physiotherapists who are on hand for injury advice when I have a niggle or pain I am unsure of, but remember, Summit are on hand for you too! We offer free 15 minute injury assessments across all of our clinics and it's our focus to make sure everyone arrives on the start line on event day, confident and injury free.
So here it is, weeks 3 and 4…time for us all to step things up a little!
Louise Bentley,
Summit Physio
Small Increases…
For weeks 3 and 4 of the Pre-Marathon Training Plan, here we are simply increasing on our last plan, slightly longer runs and and adding more increased pace running. As in weeks 1 and 2, this continues building a little endurance and the aerobic system. There are still three key sessions, making up around 80% of the run training volume, by all means you can run in addition to this to reach that full 100% but make sure those runs are carried out at a very easy pace to simply build the aerobic base that is required for the sessions to come in later months.
Please ensure you are giving yourself at least one day a week off to rest as this is vital but you can certainly use the other days in between for S&C and rehab.
As with the first 2 weeks, this is aimed at beginners and those wishing to improve, not elite, although there will be sessions within the coming plans that will suit those who are established marathon runners.
Joe Duckworth,
Limitless Triathlon Coaching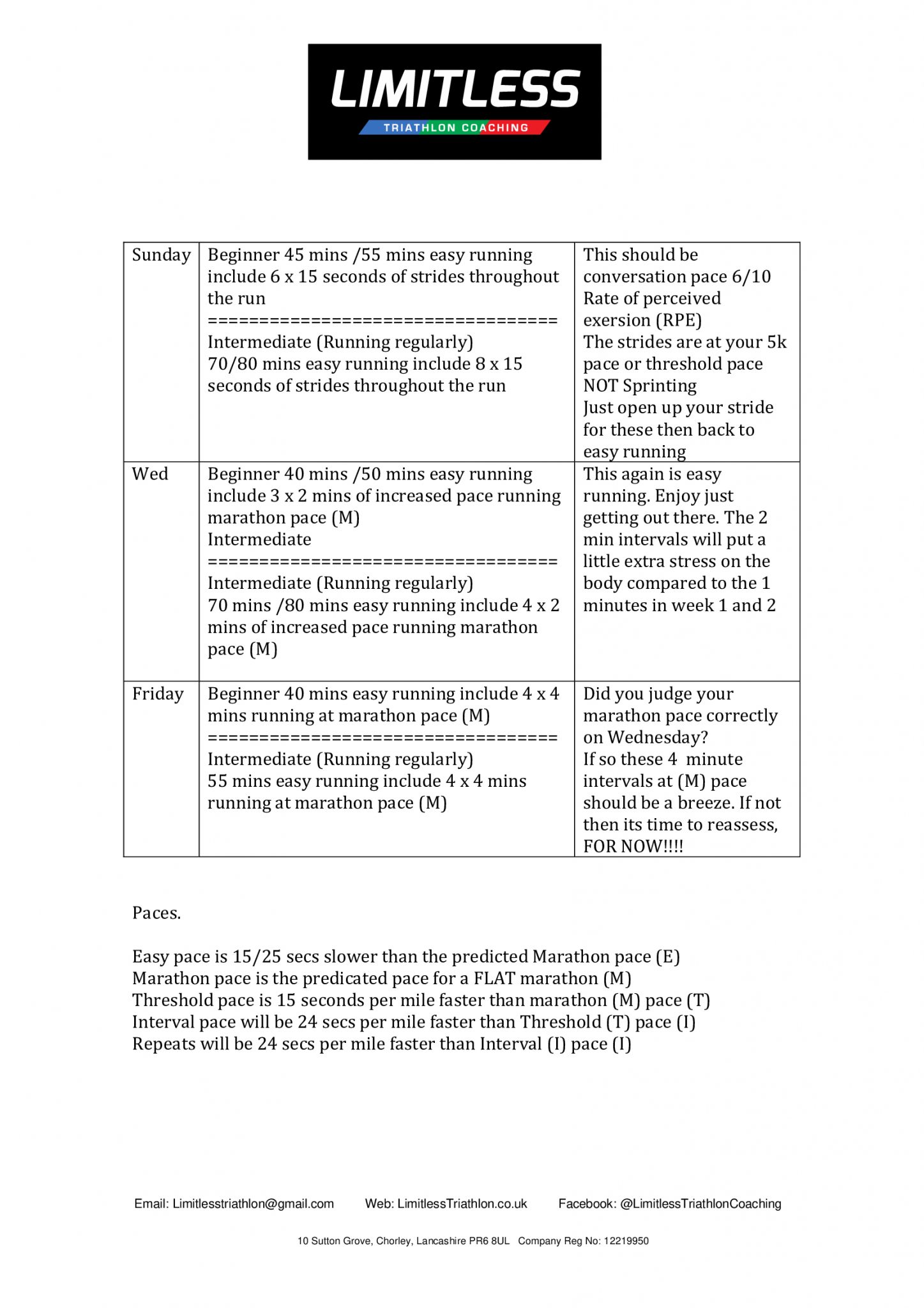 Are you warming up before braving the cold?

Not only do you need to make sure you're wrapped up to avoid injury; running with cold joints and muscles can work but allows less margin for error, and means you're likely to run slower too. But you also need to make sure you're incorporating a dynamic warm up into your training plan ahead of running to get your body prepared for the task ahead.
PLUS… Here's another strengthening exercise to add into your regime. A simple lunge can strengthen key running muscles, such as your glutes, whilst stretching others, such as your hip flexors. It can help naturally lengthen your stride and improve your single-leg balance. These protective benefits should allow you to train longer and faster with less of an injury risk.
Did you know?
As a Bolton Marathon & Bolton Marathon 10k entrant you have access to lots of exclusive benefits and discounts with Summit Physiotherapy. All runners receive 20% discount across all appointments from now until 31st May 2020. Check out the services and benefits available…
Sports Massage
Physiotherapy
FREE 15 minute Injury Assessments
Running Screening
Complete Running Analysis
Footscan Analysis
Orthotics
A FREE TRIAL of our Hyperbaric Oxygen Chamber
Call us on 0800 731 2738 for further info or book an appointment online today.