As some of our clients know, our very own Louise is a keen runner and is running her first Marathon this year; the Bolton Marathon. Louise went through our running analysis and wanted to share her feedback (from the point of view of someone who isn't a physiotherapist) and for not only fellow Bolton Marathon runners, but runners in general…
What Louise had to say…
After running in several 10k events and a couple of half marathons, I wanted to challenge myself and complete my first ever Marathon, however, a huge concern for me were my knees, I would always get pain around 18k, would struggle to keep my pace and get to that half marathon finish line, so how would I fair running a Marathon? After speaking with the team, and explaining my worries, we set about putting me through the complete running analysis process and I am so glad we did.
So What's involved?
The process includes 3 key areas of analysis, a treadmill running assessment, gait analysis and balance testing. From here the practitioner uses this data to put a personalised plan in place to correct your form and help you stay injury free.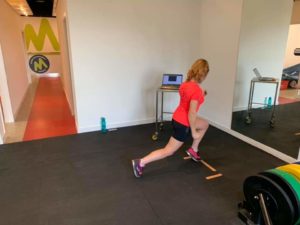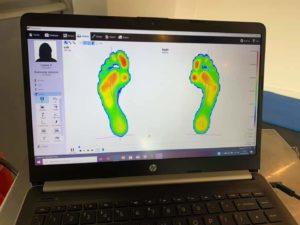 The Bigger Picture…
Even working at a physiotherapy clinic, I still sometimes forget to look at the bigger picture and instead focus in on the area where the pain tends to be. However, more often than not, this isn't the source of the problem and is in fact part of a chain reaction from another issue that we aren't aware of.
In my case (and in non-physio speak) my hips were to blame for causing the pain in my knees! Using the knowledge and tools available the practitioner was able to see the areas that required improvements, the corrective exercises I needed to do and the benefits and results I would see after successfully implementing these changes as part of my marathon training.
As my running was assessed using three different forms of testing it provided clear well rounded results to the practitioner on which areas needed correcting, I particularly enjoyed that the practitioner explained the reasoning behind each assessment, what they could see immediately as I was running and how clearly they explained the process (as I can often be a bit nervous in situations like this).
What did I gain?
After adding the corrective exercises into my training routine, not only have I felt physical improvements in my knee's. I've also noticed a reduction in lower back pain and I feel I have a greater understanding of how my form, both lower and upper body can impact upon my running ability.
I highly recommend the complete running analysis for those experiencing any issues in their running but also for those looking to improve our reach that PB goal.
Slight changes can make a huge difference. And those changes have left me smiling after every training run!
Happy Running,
Louise.
Extra Info…
To book a Complete Running Analysis or for further info call one of our team on 0800 731 2738
(Remember: Bolton Marathon entrants receive 20% discount across all appointments)
Read our blog on Winter Running: How to Avoid Injury